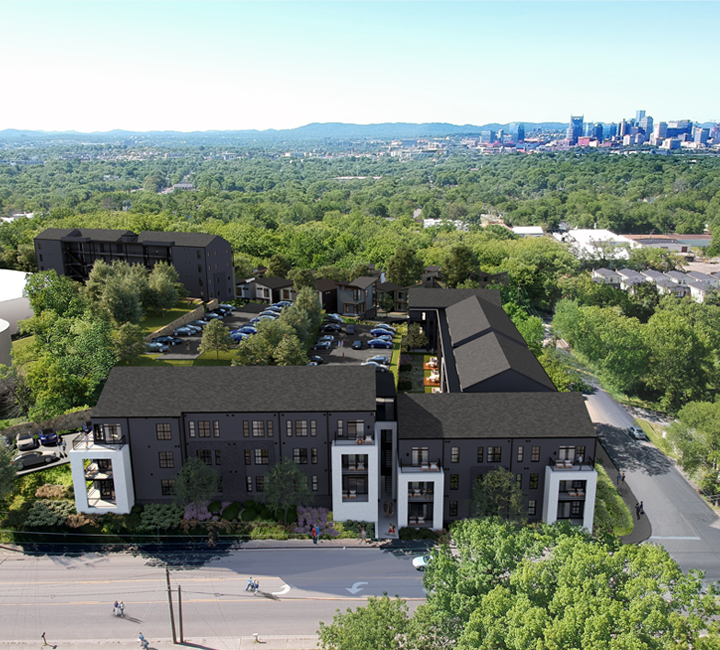 The hilltop elevation and thoughtful architecture
of High View Flats capitalizes on the spectacular views
with many units overlooking downtown Nashville.
Carved into the rock hillside, Building 1 lines East Trinity Lane and Edwin Street and wraps around the courtyard amenity deck. Just up the hill, Building 2  (right) offers the best views of the downtown skyline. Upper-level residents will enjoy full skyline views from their flats. Additionally, all residents will have access to take in the extraordinary views from a third-level community deck.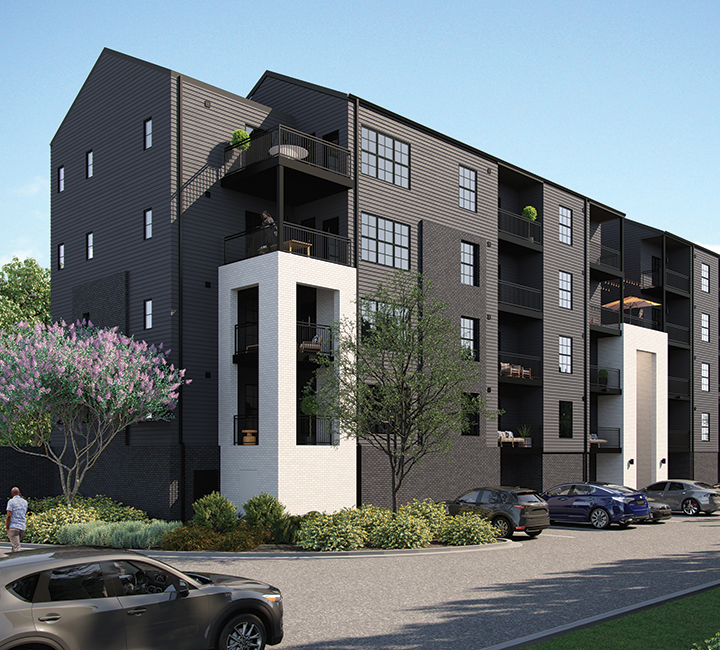 Standard kitchen finish package includes painted polar white kitchen cabinets with astral white quartz countertops and white subway backsplash. Kitchen cabinet upgrades include the option for mixed-finished stained graphite base cabinets with painted polar white uppers or all dark-stained graphite cabinetry.
Additional upgrades include appliance packages and storage unit options.
A2 unit shown in finish package examples.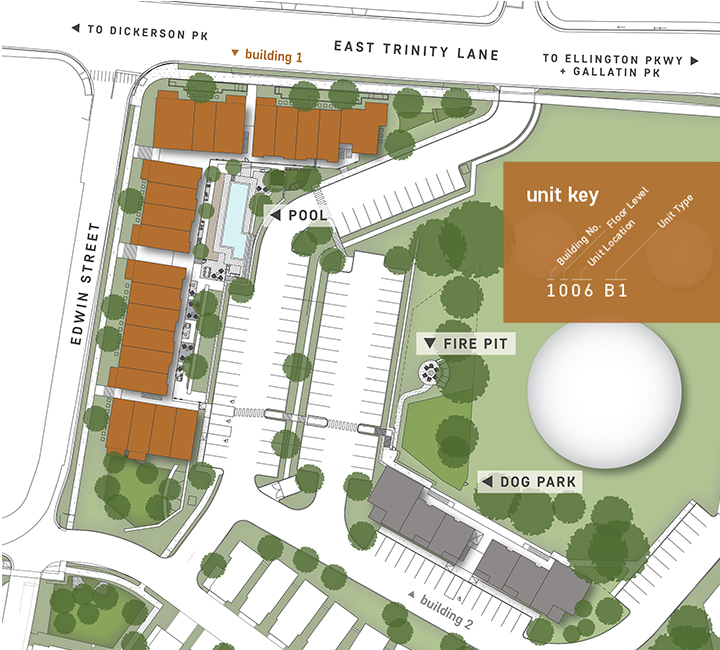 Courtyard
Level 1
Level 2
Level 3
Availability is very limited. Call for more information.
Level 1
Level 2
Level 3
Level 4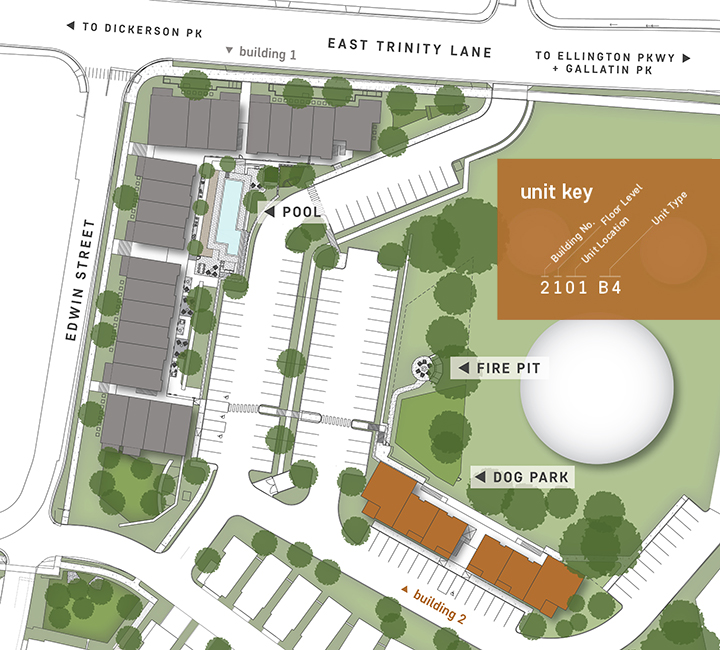 building

1

unit(s)

1007 • 1019 • 1020 • 1021 • 1022
1107 • 1119 • 1120 • 1121 • 1122
1207 • 1219 • 1220 • 1221 • 1222

bedroom(s)

studio

bathroom(s)

1

square footage

688
building

1

unit(s)

1009 • 1010 • 1011 • 1012 • 1013
1014 • 1015 • 1016 • 1017 • 1018
1102 • 1103 • 1104 • 1105 • 1109
1110 • 1111 • 1112 • 1113 • 1114
1115 • 1116 • 1117 • 1118 • 1202
1203 • 1204 • 1205 • 1209 • 1210
1211 • 1212 • 1213 • 1214 • 1215
1216 • 1217 • 1218 • 1302 • 1303
1304 • 1305

bedroom(s)

1

bathroom(s)

1

square footage

701
building

2

unit(s)

2102 • 2103 • 2104 • 2105
2202 • 2203 • 2204 • 2205
2302 • 2303 • 2304 • 2305
2402 • 2403 • 2404 • 2405

bedroom(s)

1

bathroom(s)

1

square footage

760
building

1

unit(s)

1006 • 1106 • 1206

bedroom(s)

2

bathroom(s)

1

square footage

920
building

1

unit(s)

1101 • 1201 • 1301

bedroom(s)

2

bathroom(s)

2

square footage

995
building

1

unit(s)

1008 • 1108 • 1208

bedroom(s)

2

bathroom(s)

2

square footage

1,240
building

2

unit(s)

2101 • 2106 • 2201 • 2206
2301 • 2306 • 2401 • 2406

bedroom(s)

2

bathroom(s)

2

square footage

1,240