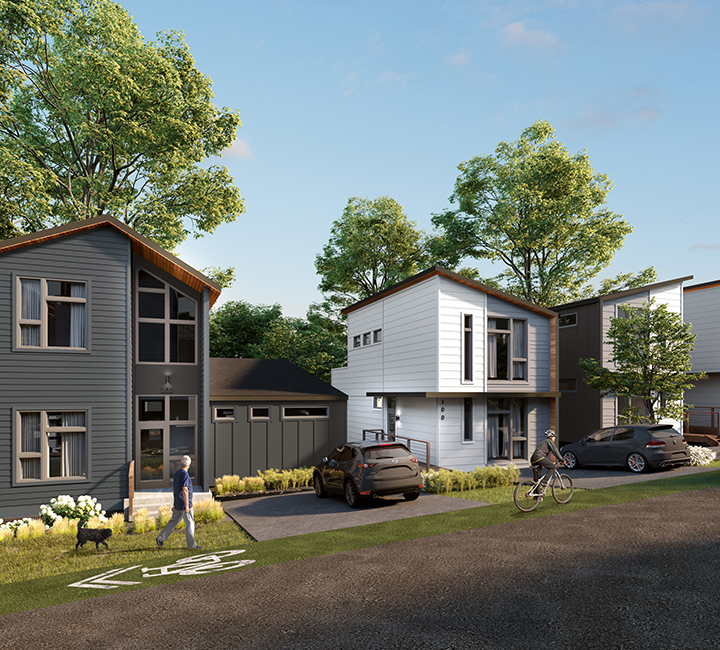 High View is Core's newest cottage community located in the Highland Heights neighborhood of East Nashville. Central to Dickerson and Gallatin pikes, High View is poised to benefit from rapidly developing commercial corridors including retail, restaurants, and other urban services. Residents will also enjoy a number of on-site amenities:
High View Cottages thoughtfully cascade down a gently sloping site, capturing views of  downtown Nashville along the way. With generous roof decks and window openings, these contemporary homes will optimize views and the outdoor experience.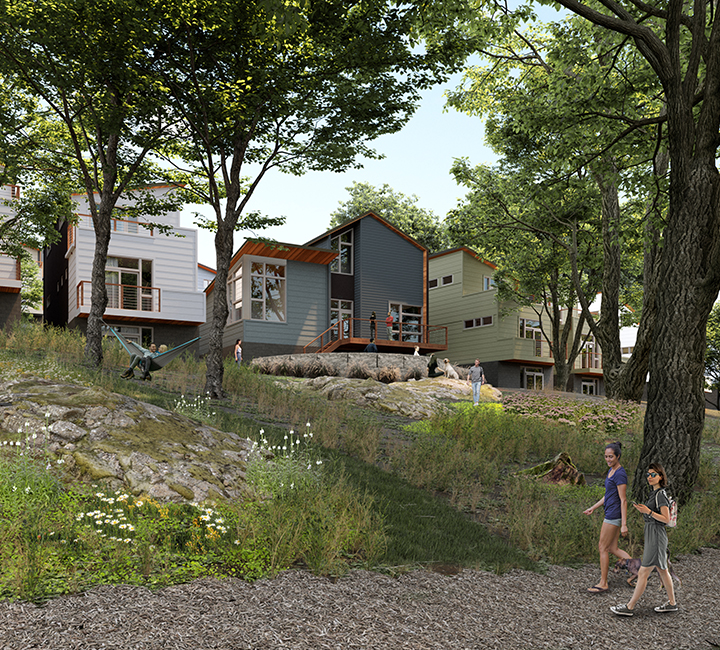 High View's design intent is distinctly modern while being responsive to its natural landscape. The cottages all share a simple yet refined aesthetic that incorporates organic qualities making it a unique residential offering.
* Some upgrades only available for select floor plans.
Limited release now available for pre-construction contracts.
Call for more info.
Phase 1 : lots 40 – 63  |  Phase 2 : lots 29 – 39 and lots 64 – 75  |  Phase 3 : lots 1 – 28
PHASE 3 Presale COMING SOON
the kingbird
the nighthawk
the goldfinch
the meadowlark
the mockingbird
the kestral
cottage type

A

lot(s)

2, 3, 4, 5, 6, 7, 8, 10, 11, 12, 13, 14,
33, 34, 35, 36, 37, 38, 41, 42, 44,
45, 46, 47, 48, 50, 51, 52, 53

bedroom(s)

3

bathroom(s)

3

garage capacity

2

square footage

1,998
cottage type

B1

lot(s)

15, 16, 17, 18, 20
21, 22, 23, 24, 25
26, 28, 29, 30, 31
54, 55, 56, 57

bedroom(s)

3

bathroom(s)

3

garage capacity

n/a

square footage

1,819
cottage type

B2

lot(s)

63, 64, 75

bedroom(s)

2

bathroom(s)

2

garage capacity

n/a

square footage

1,412
cottage type

C

lot(s)

19, 27, 59, 61, 62, 68

bedroom(s)

3

bathroom(s)

2.5

garage capacity

n/a

square footage

1,926
cottage type

D1

lot(s)

58, 60, 65, 66, 67, 69
70, 71, 72, 73, 74

bedroom(s)

2

bathroom(s)

2.5

garage capacity

n/a

square footage

1,428
Mini bar

1

Mirror and lamps

2

Modern dining table

2
cottage type

D2

lot(s)

1, 9, 32, 39, 40, 43, 49

bedroom(s)

3

bathroom(s)

3.5

garage capacity

2

square footage

1,809