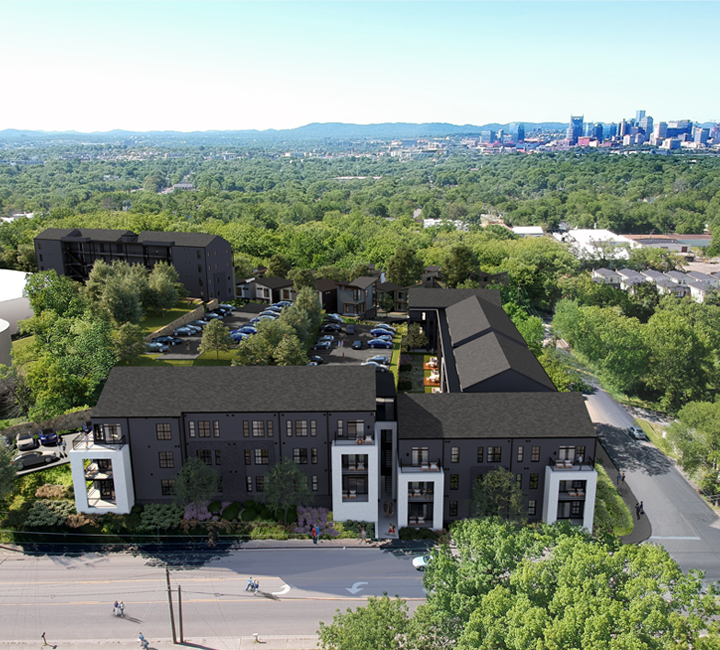 The hillside location with sloping topography allows High View Cottages to capitalize on the spectacular views of downtown Nashville. The single-family homes rest among the trees just south of High View Flats.
Need copy and photos. Standard kitchen finish package includes alabaster kitchen cabinets with astral white quartz countertops and white subway backsplash. Kitchen cabinet upgrades include the option for mixed-finished iron ore base cabinets with alabaster uppers or all dark-finish iron ore cabinetry.
Additional upgrades include appliance packages and storage unit options.
A2 unit shown in finish package examples.
2-bedrooms from $329,900 | 3-bedrooms from $409,900
Available for Presale Now
the kingbird
the nighthawk
the goldfinch
the meadowlark
the mockingbird
the kestral
cottage type

A

lot(s)

2, 3, 4, 5, 6, 7, 8, 10, 11, 12, 13, 14,
33, 34, 35, 36, 37, 38, 41, 42, 44,
45, 46, 47, 48, 50, 51, 52, 53

bedroom(s)

3

bathroom(s)

3

garage capacity

2

square footage

1,998
cottage type

B1

lot(s)

15, 16, 17, 18, 20
21, 22, 23, 24, 25
26, 28, 29, 30, 31

bedroom(s)

3

bathroom(s)

3

garage capacity

n/a

square footage

1,819
cottage type

B2

lot(s)

54, 55, 56, 57, 63, 64, 75

bedroom(s)

2

bathroom(s)

2

garage capacity

n/a

square footage

1,412
cottage type

C

lot(s)

19, 27, 59, 61, 62, 68

bedroom(s)

3

bathroom(s)

3.5

garage capacity

n/a

square footage

1,926
cottage type

D1

lot(s)

58, 60, 65, 66, 67, 69
70, 71, 72, 73, 74

bedroom(s)

2

bathroom(s)

2.5

garage capacity

n/a

square footage

1,428
cottage type

D2

lot(s)

1, 9, 32, 39, 40, 43, 49

bedroom(s)

3

bathroom(s)

3.5

garage capacity

2

square footage

1,809